Google Search A/B Testing ChatGPT Alternative?
Before November 2022: "Google dominates the search engine market, no contest."
After November 2022:
Okay, it wasn't so dramatic.
But the arrival of ChatGPT was so chaotic and challenging that concerns within Google rose up to a "code red" level.
Just 2 months prior, Google had to admit that TikTok was a real competition, and now this? They can't catch a break.
OpenAI entered the scene with an AI chatbot that provides quick responses to questions in a conversation format. This substantially improves the experience of looking for answers online.
In less than a week, this impressive product gained over 1 million users.
Google responded by dedicating significant resources to developing a ChatGPT alternative called "Apprentice Bard". Similar to ChatGPT, Bard uses natural language to take queries and provide conversational answers inside Google Search. It is powered by Google's LaMDA technology.
If you haven't heard of LaMDA (Language Learning Model for Dialogue Applications), it's the same AI model that powered Pluto, an unreleased Google chatbot. It's also the same model that a Google engineer claimed is sentient — and lost his job in the process.
Google plans to tell us more about this and how they're using AI to reimagine search at an event in a couple of days. Is ChatGPT really a huge threat that Google has to marshal such a response?
Why is Google Responding So Hard and Fast to ChatGPT?
Wouldn't it be easier to get instant responses to your queries instead of having to dig through relevant links?
Apparently, that's why tons of folks are gravitating towards ChatGPT. And Microsoft, Google's closest rival in search business, has invested billions into ChatGPT with intentions to feature it inside Bing.
This can take attention from Google Search and prevent users from clicking on ads in the SERPs — Google's biggest revenue generator.
In fact, even if Bing succeeds and takes a 5% slice out of Google's near-monopolistic 92% market share, that means losing $8.12 billion (estimated from 2022 earnings).
The thing is… This is no longer a question of 'if'. Recently, word on the street had it that Bing tested a new interface featuring the AI chatbot. We can expect an update anytime.
In 2021, Google said it wasn't ready to turn search into a conversation, but now they're forced to release the chatbots they've been working on behind closed doors.
This is a challenge to their bread and butter they can't take lying down.
We're not sure how this ChatGPT alternative will pan out in a couple of days or weeks, but we're paying close attention.
For instance, Google is already testing an alternate homepage featuring Apprentice Bard and plans to launch over 20 AI products in 2023.
Based on CNBC reports, these screens jive well with the designs we were able to source from our own internal experts.
Google is no stranger to A/B testing. Here are seven of their famous experiments:
In fact, Google is so deep into rigorous A/B testing — they did over 700,000 experiments in 2021. This is core to their success and how they've dominated for decades.
For the uninitiated, A/B testing is when you compare two versions of an asset to see which performs better. That is, you create an alternate version of something, such as a web page, and see how it performs against the original based on a desired metric.
There have been sweeping changes in Google's ecosystem in the last 2 years. The transition from UA to GA4. Their sudden initiative of assisting with this shift. Google Optimize sunsetting, come 30th September 2023. And now the potential revamp of the tried and true search engine.
As the CEO of Convert.com, I have been actively involved in the post GO sunset furor, and I'm closely monitoring the impact of these pivots on the A/B testing and the analytics space.
AI incorporation is clearly a high priority internal project at Google!
Probably the reason why many other Google initiatives will find a spot in that fabled "graveyard" of theirs. For me, acquiring these sneak peek images through members of Convert's team is amazing.
I hope that with these screenshots, we help with the visualization of how AI will change every part of our lives in the near future. You will find lots of little AI assistance in Convert Experiences in our A/B testing tool in 2023 as we consider it a great help to our conversion optimization experts and agencies.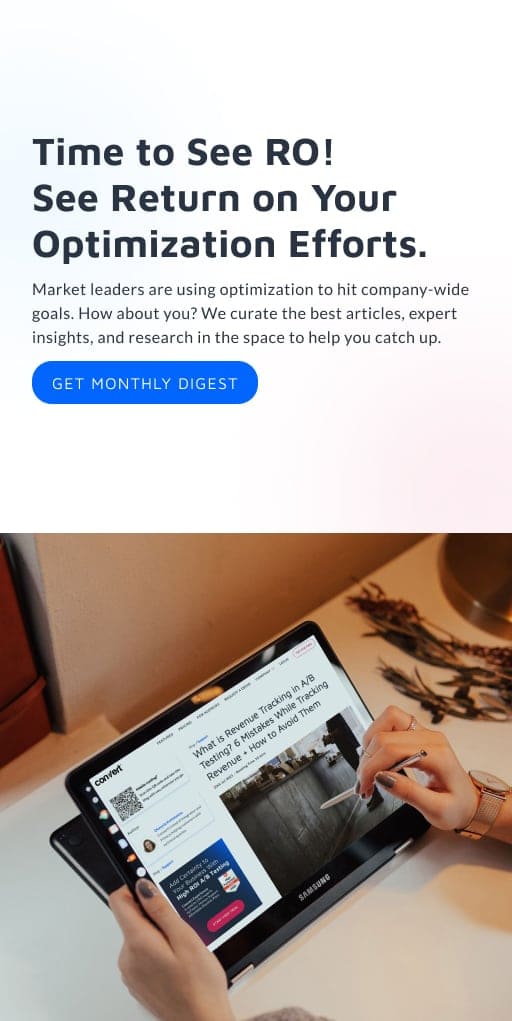 Mobile reading?
Scan this QR code and take this blog with you, wherever you go.
Authors
Editors
Carmen Apostu
In her role as Head of Content at Convert, Carmen is dedicated to delivering top-notch content that people can't help but read through. Connect with Carmen on LinkedIn for any inquiries or requests.