12 Fantastically Diverse Newsletters in the A/B Testing Space: Micro Hits of The Best in the Industry, Delivered to Your Inbox
Have you seen our A/B testing experts and CRO influencers posts? Our guides showed you which experts to follow to stay on top of the latest A/B testing insights, ideas, and knowledge that work.
Now here's one more way to make that happen with diverse newsletters in the A/B testing space.
You can get micro-hits of CRO and A/B testing theory, practical knowledge, implementation pitfalls, and rules of thumb to develop an experimentation mindset right in your inbox.
It took us a while to discover these jewels and fill our inbox with them, but we'll make that, say, 9 minutes for you.
Sounds great? Let's get into it.
Don't Just Read It and Forget It
To help you grow as an experimentation expert who regularly discovers fresh, results-triggering ideas, you need continuous, updated learning.
The landscape changes and if you want to stay on top of things, you have to change with it.
Courses lay the foundation but our industry is protean. Keeping a finger on the pulse of breakthroughs, new technologies, debates, and research is the best way to stay immersed in optimization (which is a less a career and more a way of life).
Besides following social media posts or blogs by CRO influencers, one other way to keep your finger on this pulse is by following (and reading the newsletters of) experts who are re-thinking how optimization and A/B testing should be done, every day.
And when you sign up for these newsletters, there's actually a method for making the most of them, so any valuable information you learn is easy to access and use.
Because it isn't enough to just read them (or heaven forbid, skim through and move on). We have a better 'newsletter reading strategy' that we use for this.
And it actually works with just about any educational and thought leadership newsletter you're subscribed to.
Create a second brain
Because our first brain can prove unreliable at times and there's only so much Google can give you the answer to. You can create your own knowledge repository and make it easy to access and search.
Then, you can fill it up with well-sorted and indexed ideas, notes, snippets, and research — anything you want to remember later.
It's okay to trust yourself to remember, but it's easier to dive into Notion or any other tool you use for your knowledge repository, run a quick search, and find exactly what you're looking for in fine detail.
Block time for studying specific newsletters
In this case, specific newsletters are those that bring the most value to your career or business goals. If you're a CRO, experimenter, or marketer, you don't have to go out to hunt for these. Our list gives you the strongest head start.
This blocked time can be 2 hours a week you spend combing through those newsletters and pulling insights for your knowledge repository and possibly a unraveling mind-shift that fixes problems you didn't know you had.
Now, what exactly do you do when you open a newsletter to study?
Dig in deeply
Don't just read passively, engage intimately with the topics covered in each newsletter. Are there research papers included? File them into your inspiration repository for in-depth reading and referencing.
Does the newsletter link to articles? Consume them right away. While your first brain is still hot with the info, extract key principles and add them to your knowledge repository. Index, tag, or annotate them — anything you can do to make them incredibly easy to find later.
And how much do you know about the authors whose work has been included? Peruse their profiles. Connect to them. Follow them on social media. These are worthwhile connections to cultivate.
Caught a sneak peek into the lives of your favorite optimizers? Can you pick up habits they subscribe to which strengthen the ability to see patterns in data, and find connections between concepts? Take note. File it in your repo. Because ultimately, your habits impact your work.
Some newsletters will link you to events in the CRO space. Find time for them in your calendar. This is another channel to explore in your growth journey.
What if you find ideas or musings from the mind behind the newsletter that you really resonate with? Reach out. It's a shot worth taking. It can lead to engaging conversations where you learn further, make friends, and absorb the way they think.
Newsletters are free to receive. But the value a good newsletter delivers goes beyond words and pictures.
12 Newsletters We Encourage You to Sign Up For
What we're about to reveal is from our in-house stash and recommended by pros in the CRO community. We're giving you the same newsletters our team receives and reads frequently.
We've used quotes, ideas, and content from these goldmines in our blogs and on social media. That's why we're so in-tune and up-to-date on the best and latest in conversion rate optimization, A/B testing, and experimentation.
We're smart about these things because of what we study.
So, this round-up is the result of personal experience, informed and refined by those who are active in the LinkedIn A/B testing community.
1. Test Everything
By Jonny Longden of Journey Further
If you're a regular on the CRO streets of LinkedIn, you've probably run into or dropped a thumbs up on a Jonny Longden post. He's one of the most respected and prolific educators in the A/B testing space.
Every 2 weeks, he shares practical advice, thought-provoking insights, and his personal discoveries in digital experimentation in his newsletter.
In Test Everything, Jonny makes a strong case in favor of questioning all opinions and best practices, shares striking results from experiments conducted by the Journey Further team, and how he approaches testing and hypothesis generation.
Want to see expert-curated content from around the web? Or a brief case study that'll challenge your preconceptions about what works and reinforce why you need to "test everything"?
What about ideas that'll get you thinking, "You know what? I never thought of it like that"?
Sign up via the link below — just after you've checked out a sample.
2. Experimentation Tuesday: Weekly Dose of Experimentation
Ecommerce folks, here's a once-a-week experimentation newsletter to add to your inbox.
You already know experimentation is a huge part of boosting customer experience on your site and making it easy for them to buy from you.
But if you'll like to beef up your CRO strategy with amazing tips, then you don't want to miss this.
When you open your inbox every Tuesday, you'll want to see the fantastic job Nils does of summarizing the actual heart of a dense content piece in as few words as possible. He does all the work; you get the insights. I mean, what a sweet deal when you're pressed for time but still need your dose of experimentation boost for the week.
You get to learn how leading companies like Microsoft, Amazon, Booking.com and co are using experimentation to drive their growth, sprinkled with Nils' expert thoughts to make sense of it all.
Sign Up for Experimentation Tuesday
3. CRO Weekly
Introducing: Morning Brew but for CROs.
Tom scours the internet to find the most insightful and popular reads that CRO and A/B testing enthusiasts should dive into, puts them all nicely in the CRO Weekly, and sends them to you.
He covers the best bases — LinkedIn posts (where folks share a lot of ready-to-use gems), articles, and blog posts.
So, he just gathers content for CROs and puts them in a newsletter? No, there's more to it. You see, the true value is in the curation. Tom van den Berg is a seasoned optimization specialist who'll only pick the most relevant pieces that contribute to your growth and results.
And that's not all. He also features events, job opportunities, and various CRO and A/B testing tools.
4. Experimental Mind
The OG A/B testing newsletter — 160 issues and counting.
On a weekly basis, you can improve your understanding of experimentation, analytics, and behavioral science each time you sit down to study Experimental Mind (preferably in those 2-hour time blocks we suggested at the beginning). Because to get maximum benefits, you have to get systematic about reading incredible A/B testing newsletters like this.
It shows you how A/B testing should be done through curated experimentation content that Kevin has already read himself. This puts it on our list of inspirational and knowledge-worthy resources.
You'll find research papers, articles, blog posts as well as LinkedIn posts, job opportunities, and upcoming events in the testing and optimization scene.
If you believe in walking the path of those you want to be like, you'll also love this newsletter for sneak peeks into the lives and habits of CRO legends. You get solid material to model the success you want.
P.S.: If you find only 50+ issues on Revue, it's because Kevin moved there after the 109th issue. So yeah, for real, it's been around for a while.
5. Positive Experiments
By John Ostrowski (AKA Positive John)
So, the thing is, we aren't listing out these newsletters in any particular order but we actually do have a favorite. That's Positive Experiments by John Ostrowski.
It's a masterpiece of a newsletter and hands down our favorite to receive.
He'll extract learnings from thought leaders and use them as a foundation to build new concepts. Always properly attributed and well-written.
Then, he'll teach this to you in a very engaging manner dripping with optimism and pop culture references — a tremendous masterclass in the cross-pollination of ideas.
Arguably, the fastest way to start thinking like a legendary CRO professional is by diving into an immersive experience with John's newsletters.
He focuses on topics that help you grow your products and life through experimentation. So, it's not experimentation for professional (and bottom line) reasons only, but also for optimizing your life.
Who wouldn't want to sign up?
Sign up for Positive Experiments
6. The Experimental Revolution
From Speero by CXL
The Experimental Revolution is a well-rounded snapshot of the fantastic work Speero does in standardizing experiment processes.
If you have a pretty mature experimentation engine running in your organization and you're interested in making it run more efficiently, you'll want to learn the systems Speero has developed. This newsletter is the best (free) way to do that — one step at a time.
They share unique frameworks around prioritization, research, and sharing test results. All you need to run a smooth experimentation program regardless of how many people in your organization are involved, so it's easy to scale and win more people over to the idea of experimenting.
This content is spread over the four pillars of strategy, people, data, and process while keeping you up to speed with curated news, trends, expert commentaries, and insights in the experimentation sphere.
Want to be the most informed in experimentation practices, CX, and CRO with weekly updates? Add The Experimental Revolution to your inbox.
Sign up for The Experimental Revolution
7. CXL Growth Notes, Ognjen Bošković
By Ognjen Bošković from, that's right, CXL
Here's another flavor of the CXL newsletter. It comes with growth notes focused on biweekly experiments run by the CXL team.
It shows you how the principles of experimentation can be applied to growth (and the business) at large with in-depth, actionable advice you can start considering and using right away.
This is an absolutely incredible asset to have in your inbox. And as you're building your knowledge repository, I believe a bulk of your points will come from CXL Growth Notes. It's already got "notes" in it and it's formatted in a way that fits right into the learning strategy we showed you in this article.
Check out the sample below and you'll see what I mean.
Its USP lies in the fact that CXL's Growth Lead Ognjen shares real numbers, so you feel a part of the process and what you learn sticks. And that experience sets the right expectations for you when you want to run your own version of the tests.
Plus, this isn't a one-way communication channel. You can debate and join in the conversation — in true CXL fashion.
8. GuessTheTest
Now, how about challenging your intuition and gut instinct?
We've listed newsletters that teach you, others that curate valuable content from around the web, and touched on a few that feature A/B testing case studies. This newsletter, GuessTheTest, is one of the few non-curated newsletters on this list and here's why it's worth subscribing to…
Deborah O'Malley created GuessTheTest to share the specifics of results from A/B tests conducted across verticals and industries. This is the weekly newsletter that goes with it.
It brings those gamified A/B tests plus valuable optimization content to your inbox, so that you're always getting your weekly dose of A/B testing inspiration, discovering fresh ideas, and getting that "How in the world!?" look on your face when you see your gut instinct is wrong again.
Don't worry, it happens to the best of us. That's why we test everything.
You'll also learn about a new CRO event you can attend and, if you're a pro member, get access to helpful articles and other resources.
9. The Bi-Weekly Experiment Nation Newsletter
Imagine a newsletter that gives freebies to its subscribers…
But let's not talk about the discounts on merch, access to the Slack community, or the free eBook. Let's talk about this: Access to all the sessions of the Experiment Nation conference. For free.
If you know about the Experiment Nation conference, you know this is no joke. It includes 30+ sessions from speakers around the world accessible to you virtually and on-demand every September.
Back to the newsletter (since this isn't all about freebies). What else does it have in store for you?
An opinion piece shedding light on the facets of CRO worth challenging and improving
News and updates from the thriving and diverse Experiment Nation community
Job boards
Courses
And guess what? CRO Wordle. For real — Wordle but for CROs. Check it out. If you're a CRO, change your daily mental challenge to this.
Sign up for Experiment Nation Newsletter
10. The Frictionless Way
By Rishi Rawat
The Frictionless Way is one of the few newsletters dedicated to converting healthy skeptics into buyers of your best-selling products. It's an incredible asset for pros in ecommerce from Rishi Rawat, the product page guy and thought leader in the DTC space.
Here are two ways this newsletter thrills us:
Rishi introduces you to delightful blogs where he distills his 13 years of experience running tests on best-selling product pages, and
Often Rishi will hand-pick the best of his work in a curated list with one central theme so you can build your knowledge on that and grow with him.
It's so good that we would gladly pay money to read it.
Note: This isn't only content based on his experience and learning he's gathered over the decade. He also studies online retailers and shares his notes in the weekly newsletter.
So, if you want to learn what other people are doing in the DTC space that's working with expert notes attached to it, sign up for The Frictionless Way.
Sign up for The Frictionless Way
11. A Statistically Significant Newsletter
By Bhavik Patel
Bhavik has a strong background in product and analytics, so he sees things differently in experimentation and optimization. So, when he curates the best articles, best tweets, and the best visualization in the space, you've got to pay attention.
It's a totally different but mostly the same newsletter experience from the founder of the popular meetup CRAP Talks.
A Statistically Significant Newsletter is a "by the week" compilation of all things experimentation, product analytics, product management, and data.
It'll rock your inbox, fill your notes, and charge you with experimentation ideas every Tuesday — that is, if you sign up.
Sign up for A Statistically Significant Newsletter
12. The Perspective
By Oddit
If you're in the ecommerce or DTC industry, this one is specifically for you.
Oddit delivers this newsletter in perspectives, not issues, because they provide unique angles and examples from ecom and DTC brands that DTC owners and marketers can learn from to optimize their customer experiences.
Beyond its colorful and eye-catching layout, Oddit's offering stands out. It's quick, and straight to the point, listing ideas to test across your online store, guided by examples from real brands.
These examples not only give you inspiration, but Oddit pulls test ideas from them and share them as suggestions. Say goodbye to difficulties with coming up with testing ideas.
There's also a section where they interview DTC founders and reveal their techniques and success formulas. Another section called 'Classifieds' features tidbits of news updates, ideas, and more, including opportunities to interact with the newsletter and other DTC brands to check out.
CRO Tips
This one isn't a traditional newsletter. It's a sequence of mini value bombs. Ruben De Boer has been educating the Conversion Rate Optimization space for years. If you want a comprehensive understanding of how the different pieces of the experimentation puzzle — like tools, processes, accountability, and even personal productivity fit together — you can't afford to give his CRO Tips a skip. The sign-up will deliver one email a week to your inbox.
If I Had to Choose One…
I'd choose all. If you look carefully at this list, all the newsletters add at least one ingredient to make them a crucial part of a well-rounded conversion rate optimization career and skill growth strategy. You wouldn't want to favor one over the other. I'm subscribed to all of them and I've got teammates who are too.
Now, if you've made it this far, you may have noticed one key omission – don't worry, we're getting to it. We omitted this particular newsletter because… well, let's just say we have a personal stake in it.
It's our own monthly digest of optimization tips, designed to help you Convert More. Click the link below and join 3000+ testers who are learning and growing with us!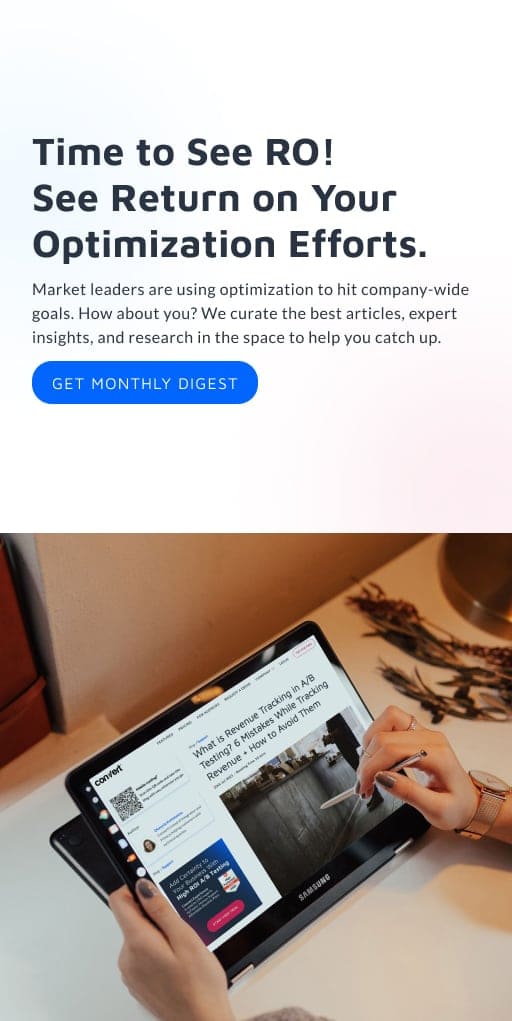 Originally published October 18, 2022 - Updated November 11, 2022
Mobile reading?
Scan this QR code and take this blog with you, wherever you go.
Editors
Carmen Apostu
In her role as Head of Content at Convert, Carmen is dedicated to delivering top-notch content that people can't help but read through. Connect with Carmen on LinkedIn for any inquiries or requests.